June 17 is National Eat Your Vegetables Day, so to celebrate, here is a recipe for a spinach dish so luscious and flavorful, you'd never believe you were eating something that was actually good for you.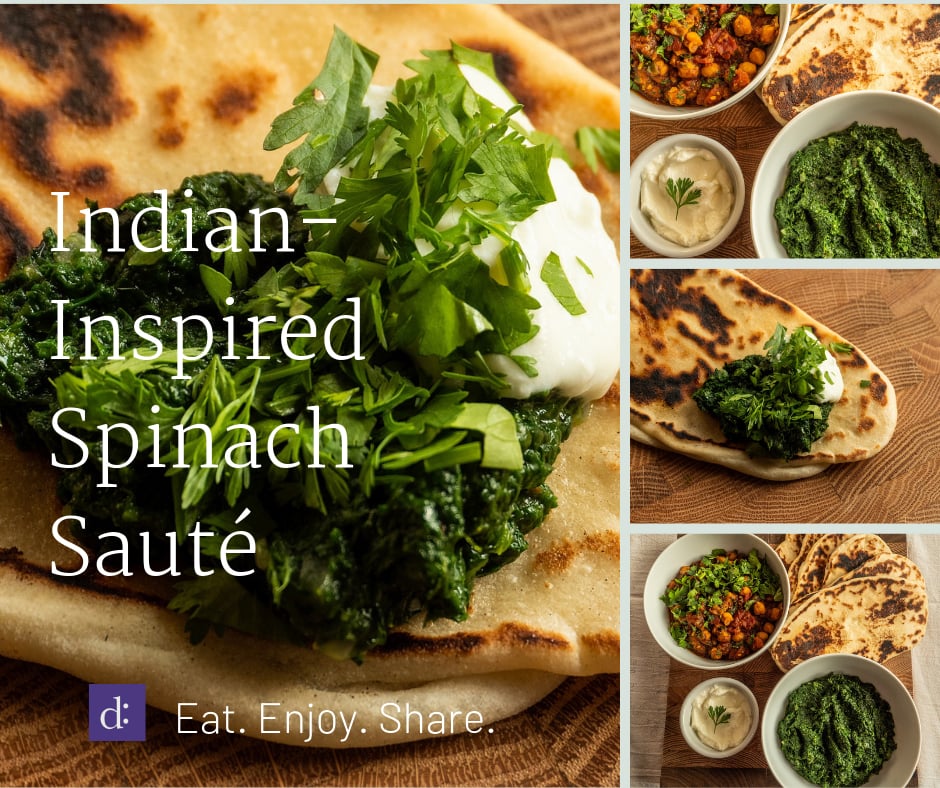 Aromatic with garlic and ginger, this dish is wonderful with lentils and rice; we paired it with chana masala, homemade naan bread and yogurt. Eating your spinach was never so enjoyable.
Indian-Inspired Spinach Sauté
Ingredients :
2 ½ lbs fresh spinach, stemmed
3 tbsp coconut oil (or ghee, canola oil, or butter)
½ cup finely minced onion
3 garlic cloves, minced
1 tbsp grated fresh ginger
Kosher salt to taste
Chile oil, optional*
Directions :
1. Bring a large pot of water to a boil and add kosher salt until it's almost as salty as seawater. Add the spinach and blanch until wilted but still bright green, about 90 seconds. Drain and rinse with cold water to stop the cooking. Squeeze gently to remove some of the excess moisture and transfer to a food processor. Purée until smooth, scraping down the sides as necessary.
2. Heat the coconut oil in a large skillet over medium heat. Add the onion and sauté, stirring occasionally, until it just begins to color, 8-10 minutes. Add garlic and ginger and continue to sauté for two more minutes.
3. Add the greens and stir to incorporate all the ingredients. Add one tablespoon of chile oil if desired and continue to sauté for 10 minutes. Season with salt and additional chile oil to taste and serve.
*Chile Oil Recipe
Grind 2 tbsp chile flakes in a spice grinder or a mortar and pestle. Combine with ½ cup grapeseed or canola oil in a small skillet and heat over medium-low heat for about 2 minutes, until the mixture starts to sizzle. Remove the pan from the heat and let cool.

Store in an airtight container at room temperature for several weeks, or indefinitely in the fridge. It's a great way to spice up almost anything from sauteed vegetables to fish to noodles.