Pinterest Marketing Strategy: The Best Organic Search Engine You're Probably Not Thinking About
11 min read
Pinterest is an organic search engine? Who knew?
The visual search channel for lifestyle ideas revealed a new DIY nation in its search trends for April 2020. We're cooking, decorating, fixing, and gardening. And apparently tie-dying.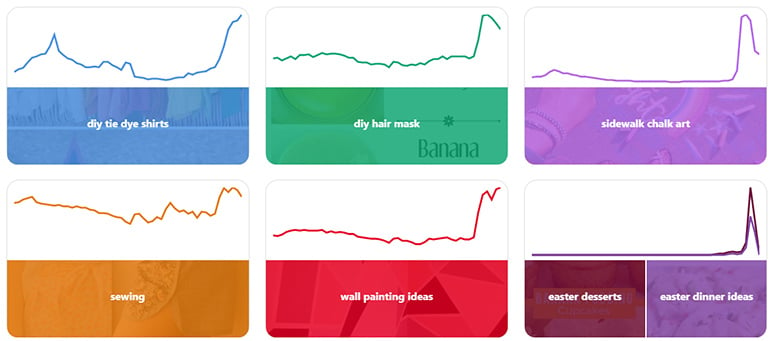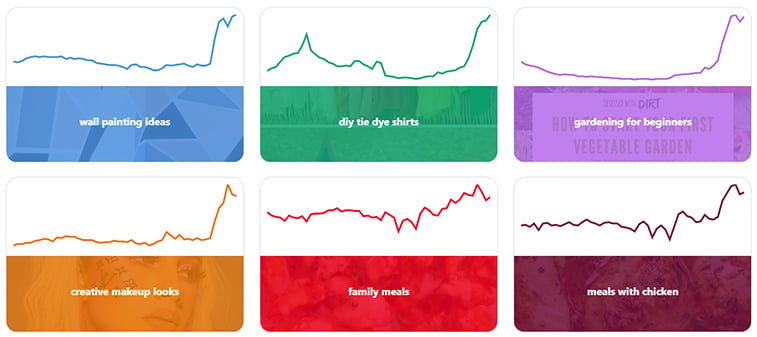 All of which opens up great potential for earned engagement. The thing is, most lifestyle marketers aren't using Pinterest. This means they are missing out on a great source of organic search traffic--and a crucial source for online sales conversions.
Pinterest: The Visual Search Engine
Pinterest gets overlooked by marketers, largely because it is misunderstood. Pinterest is more like a search engine than a social media platform.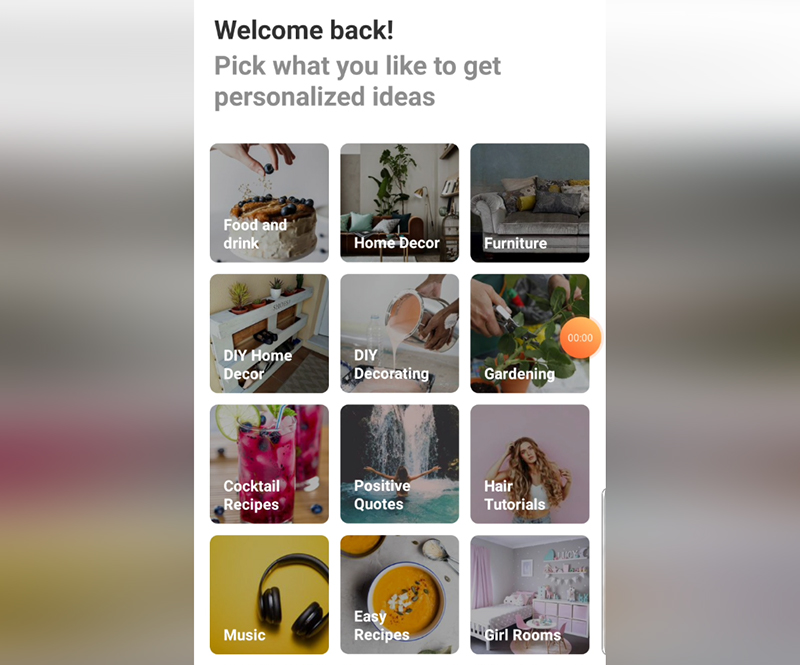 For our money, Pinterest is one of the most underrated engagement strategy tactics. Here's a Dialogue primer on how to succeed with organic (meaning not paid) Pinterest marketing, based on our learnings from the past 12 months running Pinterest campaigns for lifestyle brands:
+++
+++
Is Pinterest Social Media Marketing?
+++
Pinterest Trends: A Great Content Planning Tool
+++
Pinterest as an Organic Search Solution
+++
10 Steps for Pinterest Organic Search Traffic Success
+++
How Long Does it Take for Pinterest to Drive Organic Traffic?
+++
How Much Time Should You Dedicate Weekly for Organic Pinterest Success?
+++
How to Measure Organic Pinterest Success
+++
How Does Pinterest Work for Business?
Pinterest is the place for ideas: all the cool stuff you want to buy, see, make, plant, bake and cook. And tie-dye.
Pinning ideas to boards is like ripping pages from a magazine to save in folders. You can save pins from others on the platform, or directly from websites after installing the Pinterest browser button. You can upload your own images to boards.
Searches can be done by keywords, but also by true visual search. More on that below.
Pinterest User Statistics
Per Pew, 42% of adult women in the US use Pinterest and 15% of men use it. More than two-thirds of US Pinterest adult users are under 50.
Users are evenly split among urban, suburban and rural users. Almost 40% are college graduates, another third have some college, and 19% have high school diplomas.
Statista reports that 41% of Pinterest users' household incomes are $75,000/year or higher, which is about the same as Instagram. Pinterest is more likely to attract users with household incomes lower than $75,000 than Instagram.
Pinterest is global. Nearly three-quarters of the 322 million users are outside the United States. Which makes its annual search report, the Pinterest 100, directionally helpful for planning content, but you need to drill down in Pinterest Trends to find out specifics in your country.
Is Pinterest Social Media Marketing?
Although Google Analytics reports Pinterest-driven site visits under "social," we approach Pinterest more like content marketing. Pinners engage with content more than with each other.
In fact, Pinterest intentionally deemphasized its social aspects several years ago with the aim, as described by the New York Times, to make Pinterest "a safe and happy place." In a Talk Shoppe survey cited in the Pinterest IPO filing, 91% of Pinterest users describe Pinterest as "filled with positivity."
How many online destinations can you say THAT about?
"This is an important part of our value proposition." the Pinterest S1 filing states. "People are less likely to dream about their future when they feel self-conscious, preoccupied with the problems of the day or gripped by a 'fear of missing out.' On Pinterest, people can explore new things, free of much of the judgment that occurs elsewhere online."
Differences Between Pinterest and Popular Social Media Platforms:
Instagram and Pinterest are both visual platforms, but Instagram is more about what people are doing and Pinterest is more about what people are planning.
Facebook, LinkedIn and Instagram want you to stay on their platforms. Pinterest is a tool for saving links, so it is actually designed to send people to your website.
While Instagram and Pinterest both deliver a beautiful feed of images, it's harder to search for ideas on Instagram than it is on Pinterest.
Images with less copy perform better on Facebook and Instagram, but the reverse is true on Pinterest. Pinterest recommends that brands add a logo and overlay copy to every pin.
Horizontal images work best on Facebook, Twitter and LinkedIn, but vertical images work better on Pinterest.
Similarities Between Pinterest and Popular Social Media Platforms:
Daily activity on the platform helps boost organic

visibility.
Influencer marketing is a sound strategy.
There is some user engagement on Pinterest. When uploading pins, you have the option to enable comments and to allow pinners to upload their own pictures to your pin to show how they tried your idea. This is obviously awesome and a great source of user-generated content. You will want to pin others' posts to your boards to raise your profile among pinners engaged with similar content. You should also be ready to answer questions on your content.
Engagement happens regardless of how many followers you have. People don't necessarily need to be following you on Pinterest to see your content, because Pinterest advertising can target your audience directly regardless of whether or not they follow your account. The same is true of Facebook, Instagram, Twitter and LinkedIn advertising.
Growth in followers is good - a positive indicator about your overall content and brand goodwill. It signals authority on your subject. Anytime you can build and sustain an audience, they are one step closer to deeper engagement. The same is true of Facebook, Instagram, Twitter and LinkedIn.

As with other platforms, Pinterest videos autoplay in users' feeds with the sound off.

Make sure your Pinterest videos are captioned so people can "read" your video.
For considered purchases, Pinterest clicks may not immediately convert. Much like traffic from the other social platforms, website visitors from Pinterest tend to be early in the buyer journey, deep in exploration mode. We recommend pairing an organic Pinterest strategy with retargeting, mapping out a multi-step conversion strategy, and getting cozy with Google Analytics' Multi-Channel Funnels (MCF) attribution modeling.
Pinterest Trends: A Great Content Planning Tool
Pinterest Trends is a free search tool that helps you plan your Pinterest keyword strategy. It's also a great tool to inspire content ideas.
Seeking to capture sales and interest around Mother's Day? Enter Mother's Day into Pinterest Trends to see top related searches for the past 12 months. You can see last year's seasonal spike.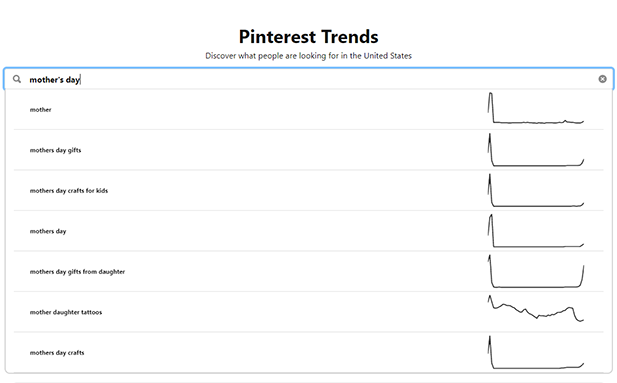 Drill down to compare the popularity of different terms. Note that things will be different for Mother's Day 2020 vs. Mother's Day 2019. As you can see above, there is decidedly less interest in mother-daughter tattoos in 2020.
On the other hand, Mother's Day crafts for kids was a popular search term last year and almost certainly will be the same for Mother's Day 2020: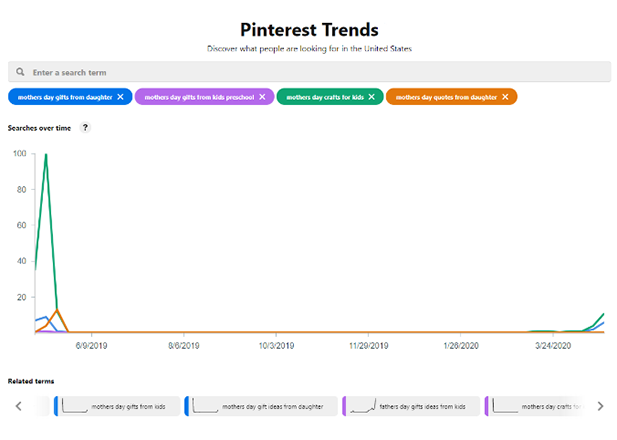 Pinterest Trends is still relatively new and doesn't always pull up specific keywords related to your content. Your Pinterest keyword research should include entering your topic into the Pinterest search bar. It is similar to Google's search bar in that it will suggest related topics: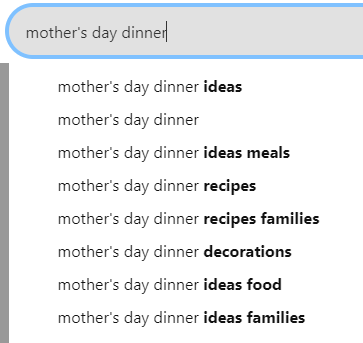 Once your keyword research is complete, it's time to get pinning!
Pinterest as an Organic Search Solution
This is the winning play for Pinterest.
An important thing to know before you start: more than 90% of Pinterest searches are unbranded. Optimize for people searching on ideas. Here is a more in-depth look at how to use Pinterest Trends to write search-optimized copy:
How Google and Pinterest SEO are Similar
It all starts with keyword research, determining popular searches that align with your buyer's intent.
Write headlines and copy that integrate the keywords in natural, inviting language.
Always be posting fresh content. Both search engines want to see posts that are new and fresh.
Always be posting good content. Both search engines reward content creator that engage their users.
A Word About Pinterest Lens and Visual Search
Both Google and Pinterest enable visual search through their Lens applications. Google Lens is a stand alone app for IOS and Android, while Pinterest Lens is built right into the Pinterest app.
It's cool because you can snap a picture of something and Pinterest can pull up related pins connected to ideas and where-to-buy information. For instance, I used Pinterest Lens on a can of LaCroix on my desk and got some drink recipes:
To Hashtag or Not to Hashtag - That is the Question
We haven't used hashtags in our Pinterest marketing, but it is a thing and Pinterest recommends it.
Our rationale for not prioritizing hashtags on Pinterest is that it doesn't seem to be how users search on the platform. In part because Pinterest does not facilitate hashtag searches the way Instagram, Twitter and LinkedIn will autofill hashtag searches with suggestions. Pinterest searches are more like Google searches.
Users can click on hashtags in pin descriptions, however, which pulls up related content. So while we don't prioritize hashtags, it can't hurt to use your keywords as hashtags in your pin descriptions.
10 Steps for Pinterest Organic Search Traffic Success
"The most effective brands and businesses are focused on solving problems and enriching the lives of their audience on Pinterest," said Rebekah Simpson, Dialogue's Pinterest account manager. She recommends content that is:
1. Positive
2. Relevant
3. Actionable
4. Original
5. Visually Appealing
Content can be built around images, image carousels and, for business Pinterest accounts, video.
Here are 10 steps to set you up for success:
Step 1: Take inventory of your visual assets. Note which ones are on your website pages and create initial groupings. This will tell you how many boards you can create so you can start to plot your Pinterest search strategy. Take special note of vertical images and video. The ideal image aspect ratio for Pinterest is 2:3. Guidelines for video pins are here. In the event that you don't currently have a lot of visual assets, we recommend holding off on Pinterest marketing until you have sufficient inventory.
Step 2: Set up a business Pinterest account. Or convert your personal Pinterest account to a free business one. Business accounts on Pinterest not only allow the aforementioned video pins, you also get access to Pinterest analytics. regardless of whether or not you advertise.
Step 3: Research keywords using Pinterest trends and the Pinterest search bar.
Step 4: Use the most popular search terms to name your boards or create sections on your boards. As with organic search engine optimizations (SEO), headlines matter. Name boards with short searchable titles that make it very clear to searchers what your boards contain. Titles can be up to 100 characters.
Step 5: Use related search terms to create copy, following best practices for SEO writing. That means natural compelling copy with no keyword stuffing. When people search for content on Pinterest, the visual stops the scroll, while the headlines and copy entice clicks. Descriptions can be up to 500 characters, but the first 50 characters will be visual in users' home feeds.
Step 6: Organize vertical images and video that correspond to the website pages where you want to drive traffic. Yes, you can just pin directly from your pages to your boards, but in a lot of cases, your website won't have vertical images or the right copy and logo overlays.
Here's the difference when we pinned our Dialogue recipes right from our site. Our featured images on the blog are sized for Facebook and Instagram, not Pinterest.
This is how it looked when we pinned directly from our website: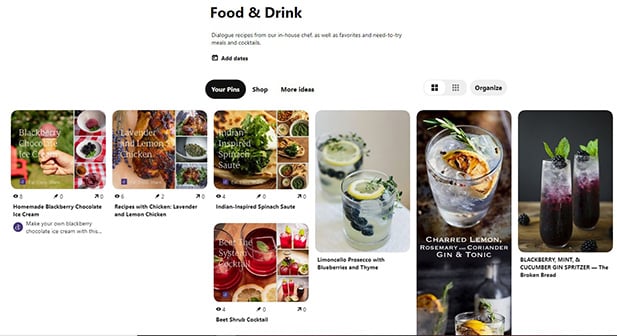 Here's how the same board looked when we made new vertical graphics in Canva and uploaded directly to Pinterest, adding the webpage link to the pin. We get a lot more visual real estate!

Step 7: Execute on Pinterest. Create boards, upload images, videos, and carousels. As you create boards, Pinterest will suggest related pins to your board. Add some of them to start raising your visibility with pinners who are actively sharing similar content. For each pin, write headlines, copy and add links. It's one pin at a time, so your initial set up is going to take some time.
Step 8: Execute on your website. Make sure that Pinners have a great user experience when they click on a pin to go to your website. They should get what they expect; your landing page should be directly relevant to the pin. Remember that Pinners are often early in the buyer journey for considered purchases like furniture, so plan your conversion path accordingly.
Step 9: Add the Pin It Button to your website so people can pin images from your site to their idea boards. It's OK if these images aren't vertical or branded, this is about people bookmarking your webpages as good ideas.
Step 10: Keep it going. As with a Google SEO strategy, continually adding new content to Pinterest weekly is critical to organic search success. Use an editorial calendar to plan ahead for creating new images and videos. There is a science to pinning at different times of the day to different boards. Pinterest for Business enables you to upload and schedule 30 pins at a time so you can optimize your time. Paid scheduling software like Tailwind can be worth the time savings when you have a lot of content to share on Pinterest. And if you missed it up above, it's worth it to invest a little time on engagement in Pinterest.
For seasonal content, keep in mind that Pinterest is a planning tool. Post holiday recipes and ideas about 45 days before the big day.
Learn more directly from Pinterest, including how to leverage rich pins for products, articles, and recipes.
How Long Does it Take for Pinterest to Work?
As with any earned tactic, from SEO to content marketing to public relations, there is an upfront investment in time and effort that takes a little while to pay off. If you are seeking immediate sales or conversion, we always recommend starting with a paid Pinterest strategy.
Organic website traffic start to build 6-8 weeks after finalizing your first boards, assuming you are adding new pins weekly. That will continue to increase over time, as long as you continue active pinning.
How to Measure Pinterest Organic Marketing
Here are goals you can use to measure the success of your Pinterest organic marketing:
Conversions from Pinterest-driven website visitors. A conversion might be a sale or a sign-up.
Clicks from Pinterest: how many and of what quality. Quality measures are time on site, depth of website visits, visits to key landing pages.
Here are KPIs to monitor your Pinterest content effectiveness:
Saves: how many of your pins were saved by other Pinterest users.
Boards and pins that have the most saves and "close ups" (clicks to view your pin)
Total audience and engaged audience
Follow Dialogue on Pinterest as we use our own Pinterest page to test and learn. Bonus: you get to see all of our cute pets!