What Is Modern PR and How Is It Different From Traditional PR?
9 min read
What do we mean when we say Dialogue is a modern public relations agency? How does it differ from traditional PR? Or digital marketing?
In this blog post, we'll define modern PR and answer some common questions about how it can support your business goals.
What is Modern Public Relations?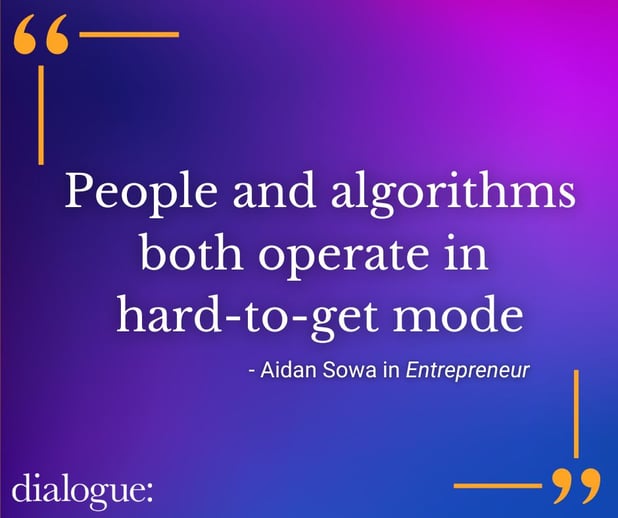 A starting point for defining modern public relations is the definition of PR itself: Public relations is a strategic communication process that builds mutually beneficial relationships between organizations and their publics. (Source: PRSA)
Modern PR is a digital-first approach to building those relationships. Transcending the transaction, modern public relations leverages engagement strategy and marketing technology to build and sustain mutually beneficial relationships between organizations and their publics at scale.
Modern PR is all about building audiences and then building those audiences into superfans. Media and influencer relations are part of that, but so are content marketing, SEO, email marketing and social media. Modern PR tactics are built on the full PESO model, as defined by SpinSucks: paid, earned, shared, and owned media.
Modern PR drives action. Campaigns are mapped to specific actions you want your targets to take, increasing the number of earned positive touchpoints with your brand.
That's why modern PR is a superpower when it comes to the pending "death of the cookie." Increasing positive touchpoints during the customer journey delivers valuable first-party data.
Modern PR is different from, and yet complementary to performance marketing.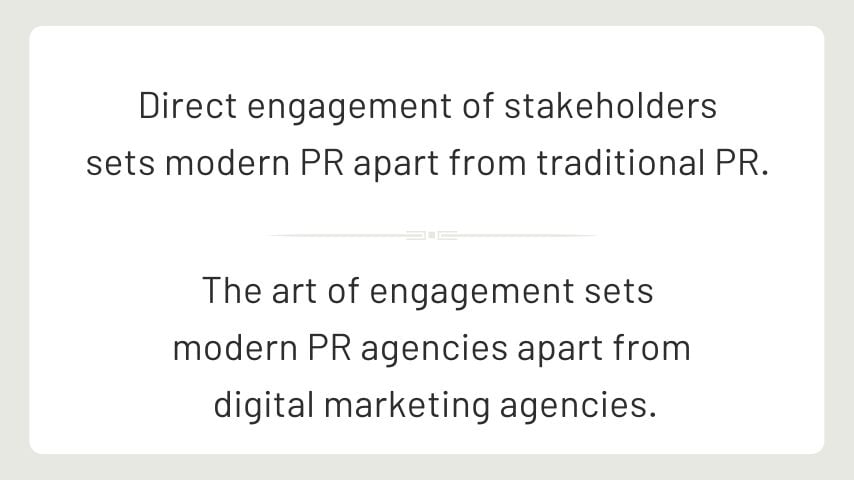 It's the direct engagement of stakeholders that sets modern public relations apart from traditional PR.

It''s the art of engagement that sets modern PR consultants apart from digital marketing agencies.
Today's Public Relations Playbook
Modern PR requires a deep understanding of what the target audience seeks to achieve or solve-for, what interests and inspires them, and who influences them.
From there, we map out mutually-beneficial touchpoints that earn the interest and trust of your target audience:
Content marketing
Influencer marketing
Events
Social media marketing
Paid and earned media
Email marketing
We measure success by actions:
Gives you their email address
Clicks on a landing page and enters your conversion funnel
Registers and attends an online or offline event
Spends time on a key website page or viewing a video
Signs up to support your cause
Clicks on a gift guide affiliate link
Pledges to take an action with you to advance a cause or idea
Scans at your trade show booth
Encounters positive brand signals about you online, in the media, on search results pages, and among influencers and communities
Engages with your content on social media
Engagement strategy underpins these tactics and brings the spirit of permission marketing to life, uniting the art of storytelling with data-driven insights to create an authentic emotional connection with your audience at scale.
---
Related Articles:
---
Today's public relations consultants recognize two realities about PR, as noted in a recent Entrepreneur article:
Truly earned media coverage is harder than ever. Without a strong, timely and relevant news angle, media outlets are likely to respond to a story pitch with pay-to-play options such as paid morning TV segments and affiliate links. In Dialogue's experience, these can be quite effective when executed with an editorial "earned" mindset. But it is a different pricing model.
People and algorithms both operate in hard-to-get mode. Successful, insight-driven PR campaigns go beyond the press release and seek ways to meet stakeholders where they are through effective, compelling, and optimized content.
Is the Press Release Dead?
The press release is not dead, but it needs a re-think.
A press release is a specific type of content for a specific target audience. It's not always journalists.
Sometimes the press release audience is regulators. Sometimes it is your end consumers via search.
Sometimes it is simply a way to document the timeline of your company's evolution – a way to put your key milestones "on the record."
Like every other piece of content, a successful press release starts by defining the audience and how it benefits the audience.
Press release distribution companies have their place. No, they don't help your SEO. They can meet regulatory reporting requirements and document key company events.
What Are The Key Metrics for Modern PR?
Today's PR is tied to harder business outcomes than traditional PR.
Successful PR is now defined by tangibles such as website visits, affiliate clicks, organic search results, leads, subscribers, and conversions.
The public relations function still needs to be measured on public perception as well, so traditional PR metrics such as sentiment and share of voice are still important measures of a modern PR campaign.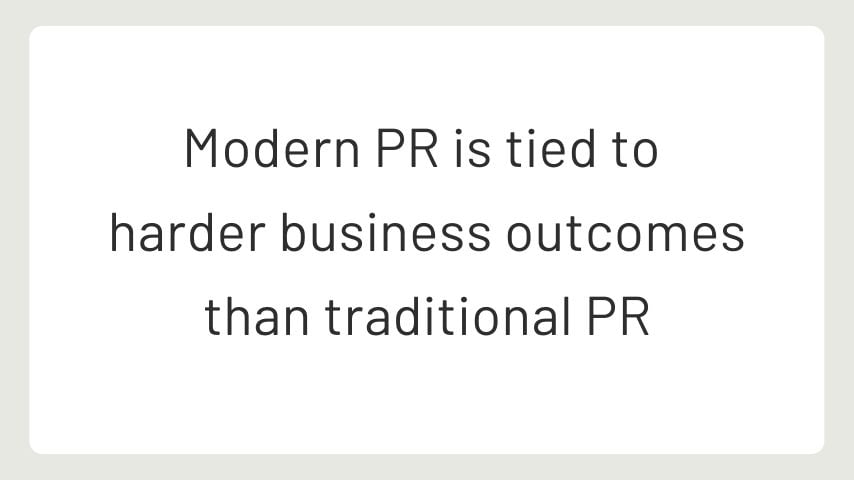 What are the Key Skill Sets for Today's PR Professionals?
PR teams should have a mix of marketing technologists and branding experts.
As always, a good public relations consultant is talented at crafting inspirational and informational content that engages stakeholders.
PR strategy should be driven by insights on how best to reach and engage target audiences with news, new products, and new ideas. In today's world, those insights are data-driven. We know how to leverage intelligence through search and digital share of voice analysis to create quality content that engages audiences through the media, search, social and website content.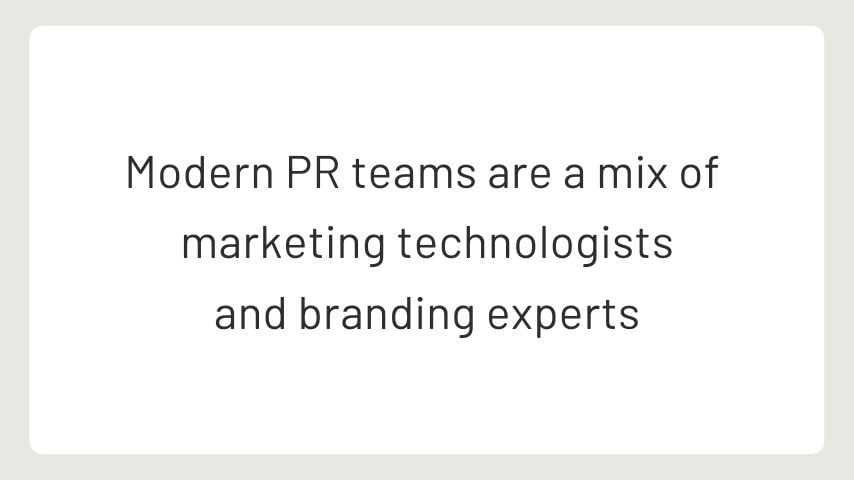 It's kind of like thinking in 3-D. Left brain/right brain skill sets.
Doing it all at scale means different platforms and executions requiring specific skills and paid tools. This is where an external agency like Dialogue can help build flexibility in your marketing and sales organizations.
For talent entering the public relations profession, the skills we first identified way back in 2019 while attending a conference about artificial intelligence are right on target with the full complement of competencies needed for PR professionals today.
And, yes, artificial intelligence is part of the modern PR playbook, including some areas of content creation, along with a robust tech stack that we explore further below:
What Does the Digital PR Tech Stack Look Like?
Today's PR teams use various tools, both paid and publically available, to execute PR campaigns.
Engagement Platforms, Affiliate Networks, Review Management, and More
The heavy hitters in the PR tech stack manage engagement at scale across social media and email marketing. Engagement platforms like HubSpot include everything from email marketing to landing page and conversion tools. Specialized engagement platforms perform similarly with specific functionality for things like advocacy and fundraising.
Other engagement tools include affiliate marketing networks and the insight to leverage the related platforms for both earned commerce content (like gift guides), influencer marketing, and customer loyalty programs.
Review management platforms help scale monitoring and response strategies.
These tools require expertise in data science and platform operations, as well as messaging and customer service. They also require a commitment on the part of the organization to some level of digital transformation, since it's a different way of engaging with stakeholders.
Strategic Insights
Google is the new market research. Today's PR consultants know how to use Google Trends, keyword and search question research, social media audits, influencer and hashtag research, competitor ads on LinkedIn or the Meta (Facebook) network, and media monitoring services to benchmark share of voice. For lifestyle brands, Pinterest Trends is a great source of trends and story ideas.
Creative, Including Artificial Intelligence
Artificial intelligence (AI) powers some pretty impressive video and written content, getting content about 40% of the way to where it is effective for different uses in online engagement. We have had success with Lumen5 for video and more limited success with Jasper.ai for copy.
The benefit of AI for creativity is the ability to cost-effectively create informational content that addresses search questions. Be aware of the learning curve for these platforms.
The limits of AI are self-evident: it does not replace engaging, emotional storytelling. Knowing where and how to use AI effectively is emerging as a skill set in its own right.
Search Engine Optimization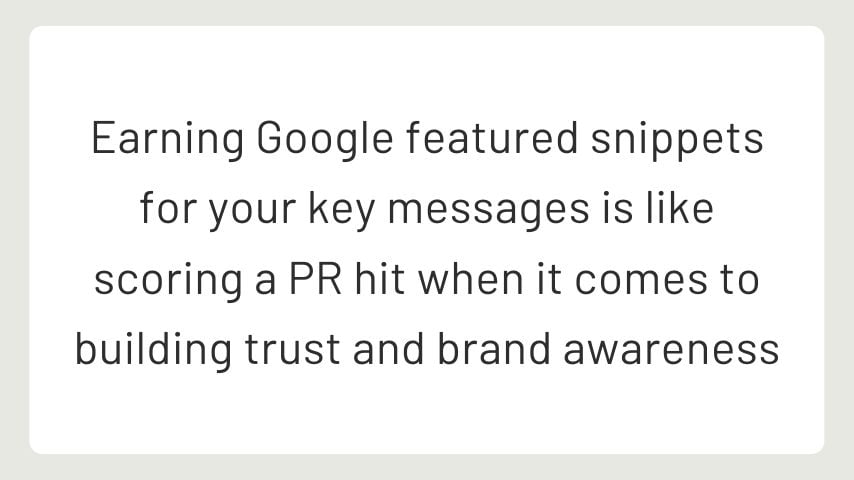 There are two sides to the SEO coin: the optimized content and the technical underpinnings of your website. SEO tools include Google Search Console (free), keyword tools (SEMRush and Surfer), and general search intelligence from a platform like Answer the Public.
PR consultants are most likely to partner with technical SEO experts to address website functionality, especially as it relates to Google core web vitals.
But the content side of SEO falls squarely in PR's wheelhouse, as does inbound link building.
Planning, Scheduling, and Project Management
Calendaring content and events holistically assure the most efficient use of marketing dollars for content marketing. When integrated with project management tools, PR teams can lead communications efforts to build relationships and reach.
There are many social scheduling tools (we like Agorapulse for that) but to get a holistic view of all marketing efforts, project management tools that provide calendaring and task tracking will make your life a whole lot easier. We like ClickUp, but there are many highly-rated options.
Monitoring
Monitoring social media platforms, Internet articles and media outlets supports PR practitioners in keeping a finger on the pulse of reputation management while also keeping tabs on public opinion and emerging trends.
We especially like MuckRack for online and print article monitoring and Agorapulse and Awario for social mentions.
Objectives and Key Goals Tracking
The old adage that you can't manage what you can't measure was never more true than it is today, and there's both an art and science to getting above the noise of multiple analytics streams, synthesizing the data, and putting it in context for your team and your client.
This includes data from Google Analytics, social media and media monitoring, and organic metrics to measure the impact of earned outcomes in paid, earned, shared, and owned channels.
You get the idea--modern PR has a big tech stack. A good place to get started on finding the best options is to look at how various platforms are reported and compared at Capterra and G2.
How Long Does It Take to Get Results With PR Tactics Today?
PR experts have long counseled leadership and clients that PR is a long game. It takes time to build trust with stakeholders and to find the right match between the information you have and what they need.
There are exceptions where results can happen quickly:
You are announcing truly groundbreaking news on a topic of high industry or cultural interest.
You are engaging influencers for timely e-commerce product promotions.
You are putting ad dollars behind content designed to engage the target audience or attract sign-ups.
How Today's PR Consultants Work With Performance Marketing Agencies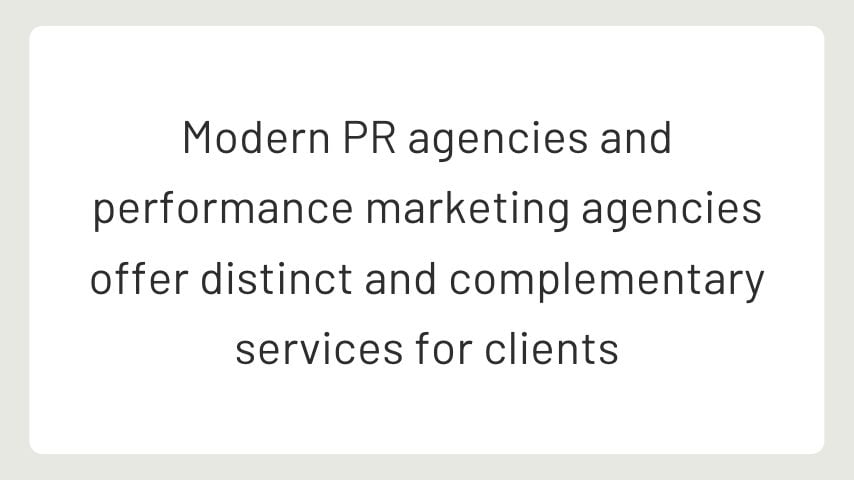 Although it may seem that there is overlap here between the work of your performance marketing agencies and a modern PR agency, both offer distinct and complementary services for clients.
PR consultants make connections, building and warming up an addressable audience to grow your first-party data sources.
In turn, that improves the outcomes of performance-focused digital ad spends.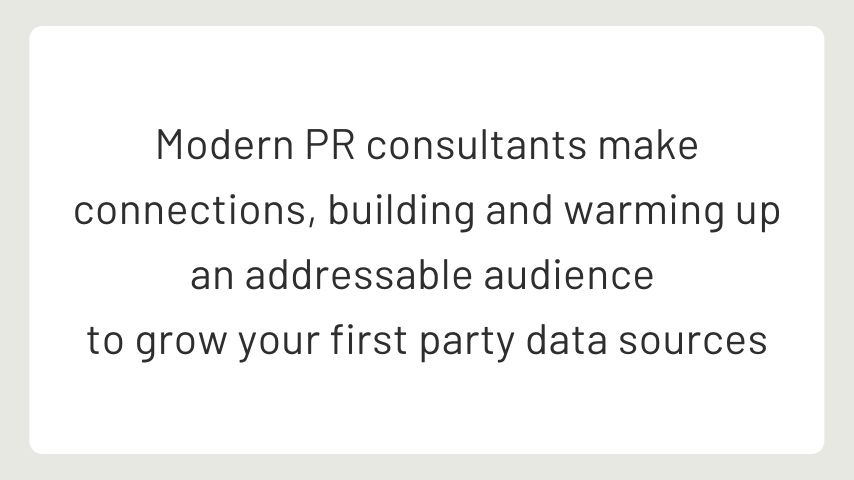 Today's PR people are all about engagement - with target audiences, with journalists, and with influencers. The payoff can be huge if done correctly.
How can Dialogue help you master modern PR in your organization?