Great content starts and sustains a dialogue with your prospects and customers. Smart content marketing drives action.
"Action" is what differentiates content marketing from other forms of content.
It drives to a destination.
What is Content Marketing?
The Content Marketing Institute defines content marketing as "a strategic marketing approach focused on creating and distributing valuable, relevant, and consistent content to attract and retain a clearly defined audience — and, ultimately, to drive profitable customer action."
It's a simple concept: attract potential customers through search engines to a destination page on your website that starts a marketing funnel, ultimately leading to desired customer action.
Content marketing works because you become discoverable during your prospect's decision journey.
What are your prospects seeking to achieve or experience where your value proposition can help them? That's where the clearly defined audience part comes in. Content marketing campaigns are aimed at subsets of your target audience who are in a need state that your organization can serve.
The content helps them achieve their goal, which leads to the driving action part. Content strategy should map to a measurable goal, such as growing your email list or driving an e-commerce sale.
The Business Case For Content Marketing
Brands invest a lot to grow followers on platforms like Instagram and LinkedIn, but sometimes need to pay more attention to building their own audience by collecting email addresses through content marketing efforts. Not building an audience is a missed opportunity in the "death of the cookie" era.
Then there are the know, like, and trust benefits of content marketing. Being relevant and helpful builds a positive brand reputation, which is why content marketing is a big part of the modern PR playbook. Content marketing puts the target's needs first, building the strategy around a specific need state.
Build brand awareness with content marketing by increasing the visibility of your website for non-branded search queries. Content that earns enough authority for Google to award it a "featured snippet" or "people also asked" status is exceptionally beneficial in building brand awareness and trust.
Creating high-quality content and tying it to a conversion event is the gift that keeps on giving. Create it once, refresh it as needed and let it run. The upfront investment is amortized over the years, reducing your cost per acquisition over time.
Content Marketing Core Concepts
Search engine optimization and content marketing work together. An executed content marketing strategy includes these elements:
Broad Topic: This is the overarching topic for your content marketing strategy. It is usually 1-3 words, like "content marketing."
Need State: The "want" the prospect is seeking to solve, such as "why content marketing is important."
Core Topic: The topic that solves the target audience need state. A broad topic can have multiple core topics. Core topics are generally 3-5 words and have a destination page.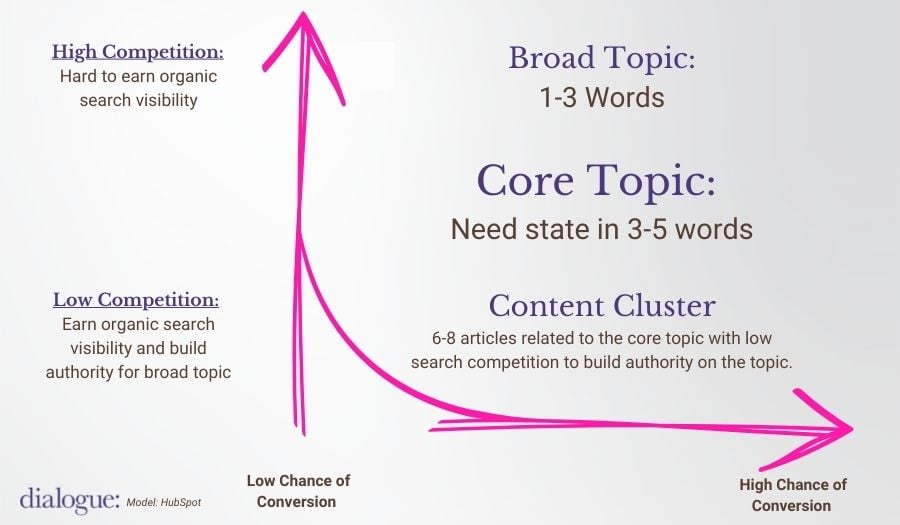 Content Cluster: These are related articles to each core topic designed to signal topic authority to Google through an intentional internal linking strategy between the destination page and related pages. Create content cluster articles around keywords that have good search volume and low competition.
Google rewards sites with higher organic search results when those sites demonstrate E-A-T: expertise, authoritativeness, and trust. Consistently publishing content connected to the destination page through an intentional internal linking strategy is the secret sauce in content marketing that leads to search engine optimization success.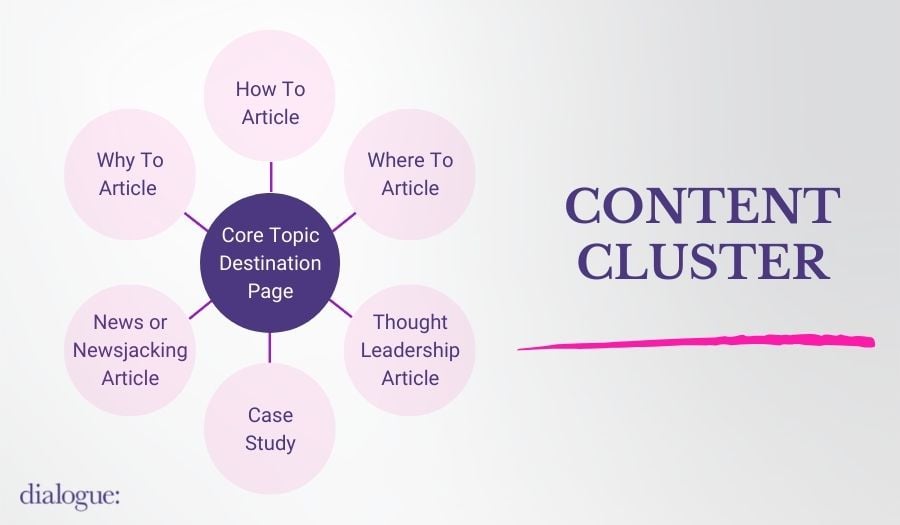 Destination Page: The destination page, also called a pillar page, starts the marketing funnel you are building with your content marketing campaign. Prioritize creating quality content, meaty and detailed, with a mix of copy, subheads, and compelling graphics.
This is a destination page about content marketing. Related content in this cluster includes How to Measure Content Marketing Performance and two other content marketing blog posts. Build content clusters over time with an editorial calendar.
Conversion Page: The conversion page is the ultimate destination for converting visitors to take action. Generate conversions by offering a valuable piece of content called a lead magnet. Check out our lead magnet and conversion page for content marketing.
CTA: CTA stands for Call to Action. This is a graphic element or strategic text link on the destination page that gets website visitors to visit your conversion page. Here is an example for our content marketing campaign: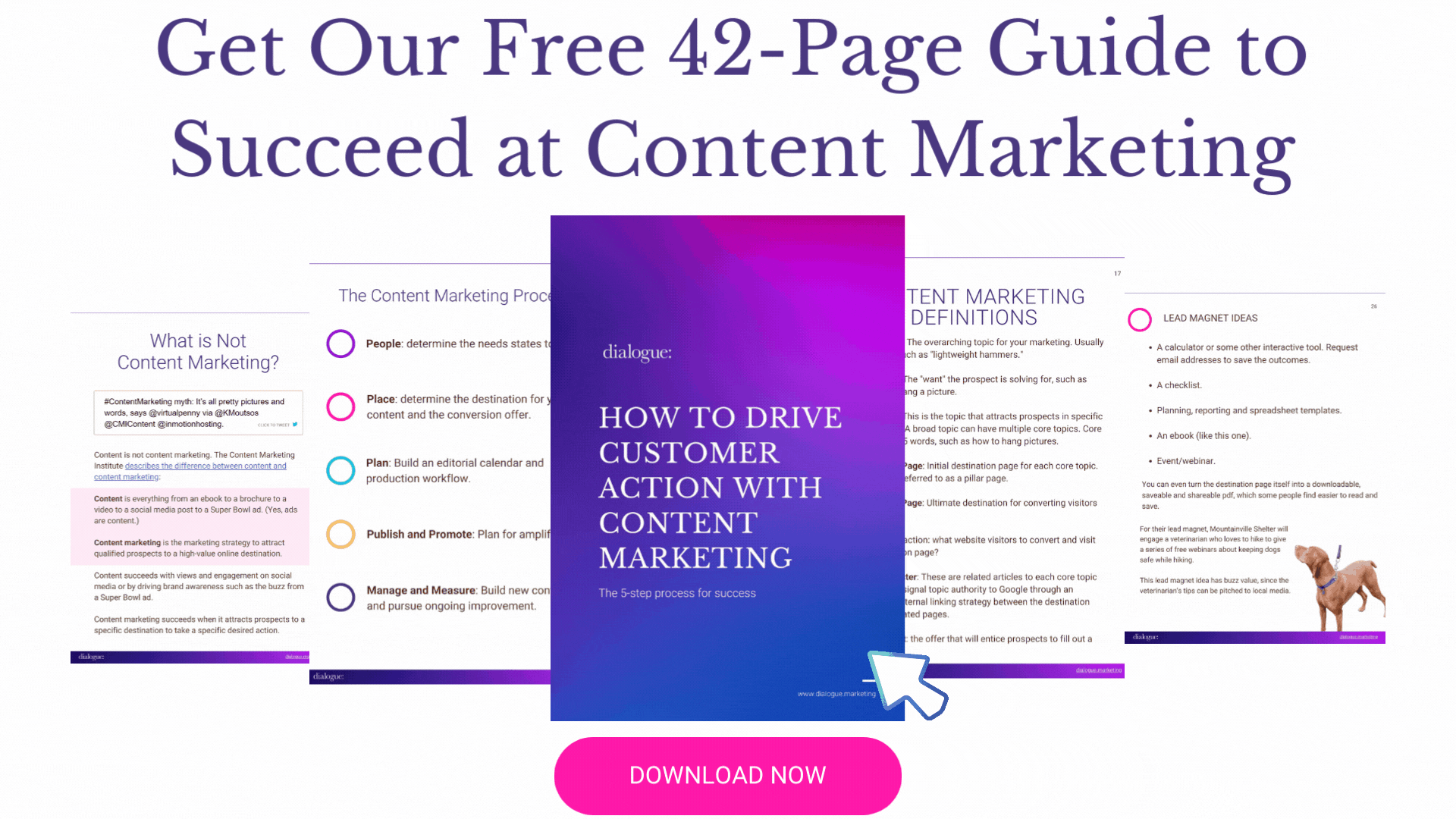 Content Marketing Strategy: The Five-Step Process
Content marketing strategy follows a five-step process: People, Place, Plan, Publish and Promote, and Manage and Measure.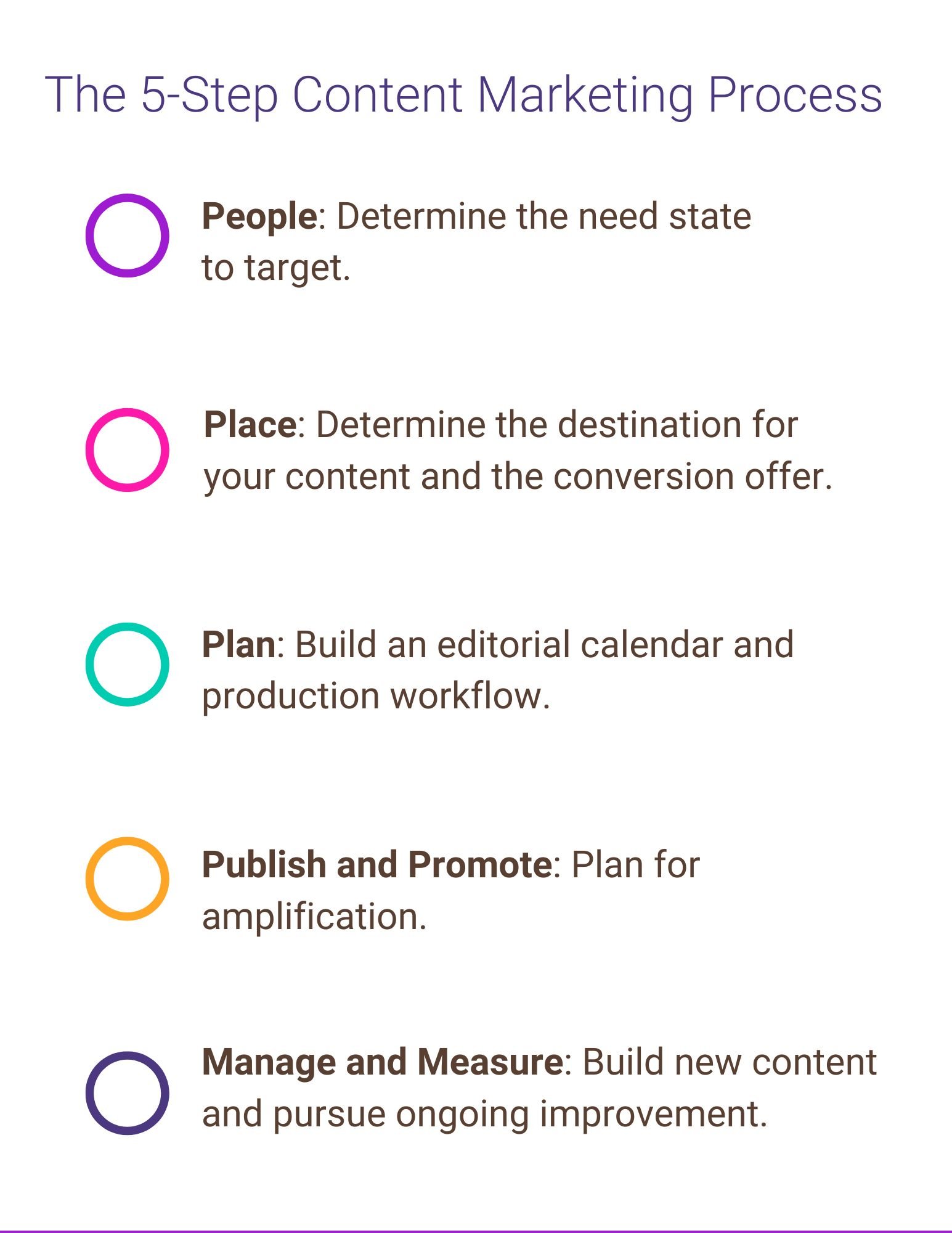 People: This is the need state of your target audience. Sometimes referred to as a persona, need states are more specific than customer segments.
Place: Place is your marketing funnel. This is where you want potential customers to go: your destination page and a conversion page.
Plan: An executed content marketing strategy starts by documenting a plan to create content and promote the content.
Publish and Promote: While the content is in development, create your promotion plan assets for social media, digital marketing, and traditional marketing.
Manage and Measure: Measuring and reporting outcomes is the easiest part of content marketing since everything maps to an action. In setting goals, plan to improve efficiencies over time, such as lowering the cost per page view and cost per conversion.
Is a Content Marketing Strategy Right For Your Organization?
Content marketing is important for most organizations. The importance of content marketing is clear for business-to-business brands since it works best for complex stories.

But the evergreen nature of content marketing means intelligent content marketing strategies build loyalty and repeat purchases among consumer and direct-to-consumer brands, too. We got a start-up chocolate client on the first page of Google results for a low-competition keyword related to chocolate and wellness.

Content marketing will work well when:

Your content marketing strategy is well-defined by a specific need state among your prospective customers.
The need state is evergreen, so your investment in quality content will amortize over months and years of profitable actions.
You have internal and/or external resources to ideate and create consistent, quality content, optimize the content for search engines, and promote the content through social media, digital marketing, and traditional marketing.
You have effective IT support to address technical search engine optimization issues.
You have a pathway to drive profitable customer action and a way to measure it.
You have a plan for how to respond when content marketing generates conversions, such as new leads.
As with all modern PR elements, content marketing will be less effective if you have a short-term conversion goal. Performance marketing is always your friend for fast conversions. Content marketing is not an effective launch strategy in itself, but supports customer education at your launch and drives awareness over time.
Want to see how it all comes together? Our ebook "How to Drive Customer Action with Content Marketing" describes the content marketing process in detail using a fictional dog shelter as an example. Get it now!