In every economic downturn, marketers sing the common refrain: this isn't the time to stop marketing.
But this time? It's time to stop marketing.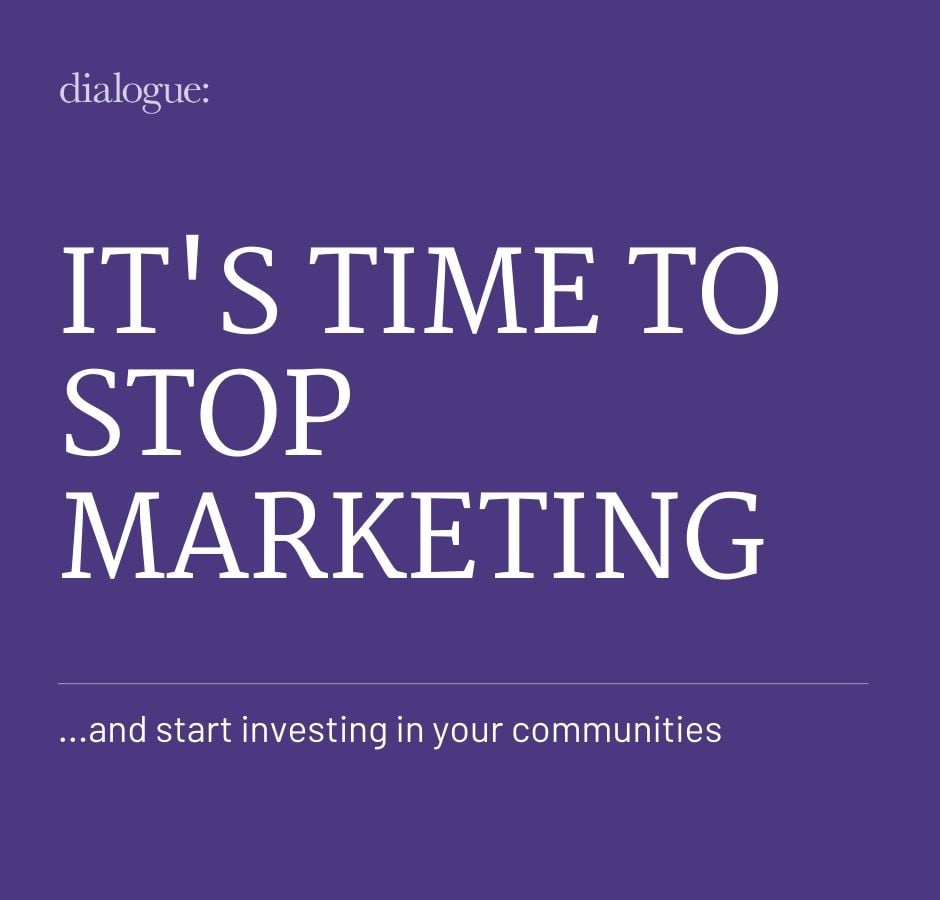 Even the best case scenario for the COVID-19 pandemic as of today is going to involve a terrible amount of human hardship.
This is the time to shift your marketing spend to investing in your communities: your customers, your employees, your town and your virtual communities.
Your Community is Your Customers and Stakeholders
No, we don't need another email from a company we ordered online from once back in 2015 telling us that these are "unprecedented times" and also a good time for really big savings!
Customers need to know where their orders stand. They need to know if you are delivering. They need to know what happens if they or you have to cancel or postpone something.
Here's what not to do. My car dealer sent this email this week. "Out of an abundance of caution," I'm not going to publicly name the dealership, but come on now.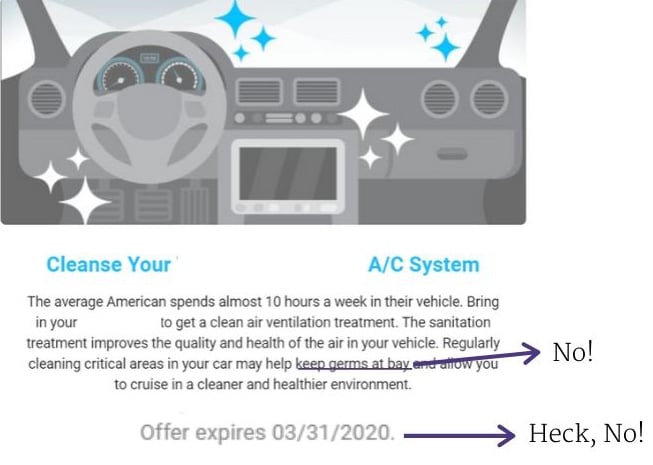 Charitably, I'm going to say that this dealership is trying to find ways to keep their mechanics employed. But the only way to save the economy in the long-term--plus actual lives--is social distancing. We HAVE to do this (for perspective, see my personal Facebook post about my uncle and the 1918 flu pandemic).
Your Community is Your Employees
So instead of the example above, follow the example of REI. Shift spending from marketing to helping employees. I promise you'll still get impressions because you'll be making an impression: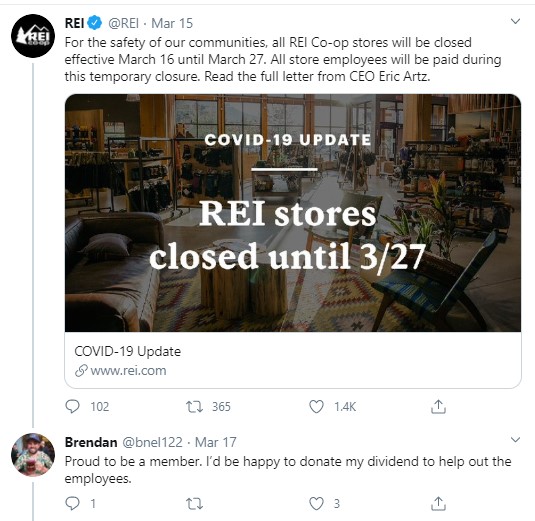 Your Community is Your Town
Shift your marketing spend to where you keep your communities physically and mentally healthy.
For first responders and people on the front lines, give them a gift certificate if you have services that will benefit them down the line: a free class, a free massage.
Contributions to local food banks are also a good idea.
If you're a Zoom whiz, folks need help mastering the platform. Help your local community groups stay connected with some how-tos.
There are more suggestions here on where there are areas of need.
This Atlanta PR agency got really creative. What's in your supply closet that might help someone right now?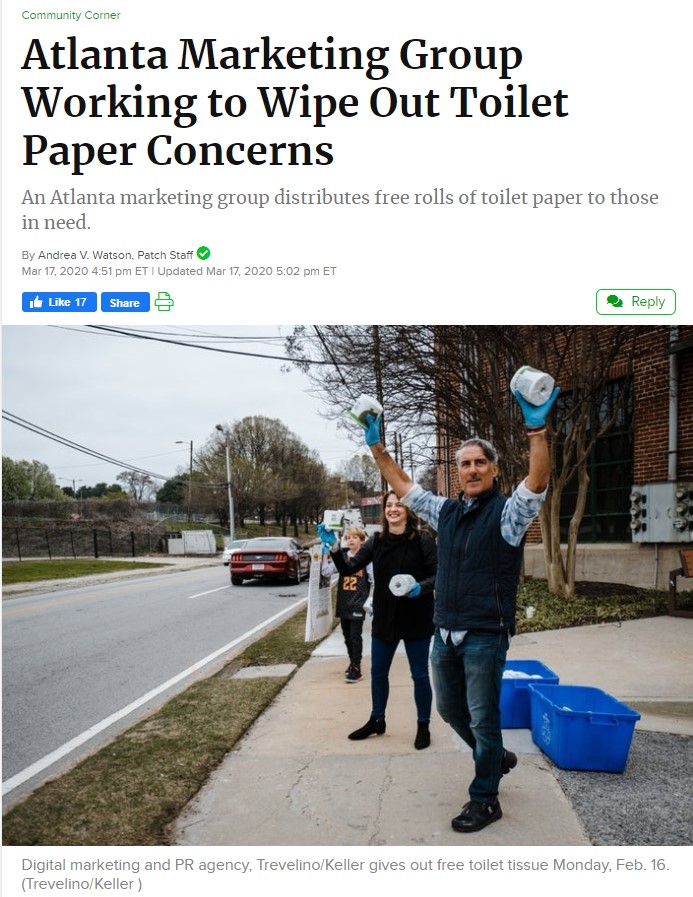 Your Community is on Social Media
How many times have you held back from engaging in online groups of your customers, because "social media is handled by marketing." There has never been a better time for companies to take off the death grip on "messaging," and mirror your authentic offline relationships online.
Guardrails for sure, but in my experience, employees are afraid to join conversations in customer groups for two reasons:
1. They are afraid if they post anything, someone may respond with something negative about the company. As in: "my widget isn't working right and I can't get your customer service teams to respond." The employee is afraid to be the one that "caused" that negative post (I'd argue that it might be underfunded customer service that caused the post, but I'll hold that thought for another time).
2. They are worried about the perception of wasting time on social media. Although that isn't anyone's perception about taking a customer out to dinner or inquiring at a networking event how their kids are doing or showing cute pictures of your puppy to colleagues at the water cooler.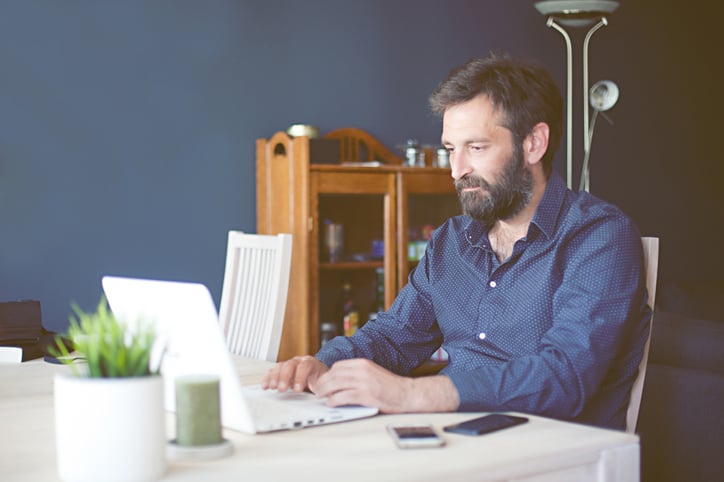 He's social distancing; not social isolating
Solution #1: Instead of punishing an employee for starting a dialogue that elicits a negative response, check out the whys behind a negative response. Maybe something does need to be fixed in your company. And when we're the consumer, maybe every customer service shortcoming doesn't have to start with a public slam? If someone from a company engages in dialogue when you have a problem with a company, start with a friendly direct message and take it from there.
Solution #2: Social distancing is isolating; social media is a connection. I get that it's already a giant culture shift for many companies suddenly shifting to work-from-home. Will work get done if people aren't in the office and on social media? Here's the thing: you'll know if your employees are doing the right thing when the work gets done. Keep your team and your culture together on social platforms.
There are few silver linings in this situation, but may one of them be a permanent shift to engagement at scale, leveraging every opportunity we have through digital platforms to connect with customers, employees and community as people. That includes small talk, just as it always has.
Advertising: Look for the Helpers
For some brands, it totally make sense to advertise right now: when your product or service can help people. (Hello, toilet paper and hand sanitizer manufacturers. You too, bidet brands.)
Search and social advertising are the best ways to be helpful by getting the right message to the right person at the right time.
Madison Reed has been in my Facebook stream every few hours for the past week. I fit the demographic where roots will start to show if too much time passes between salon visits.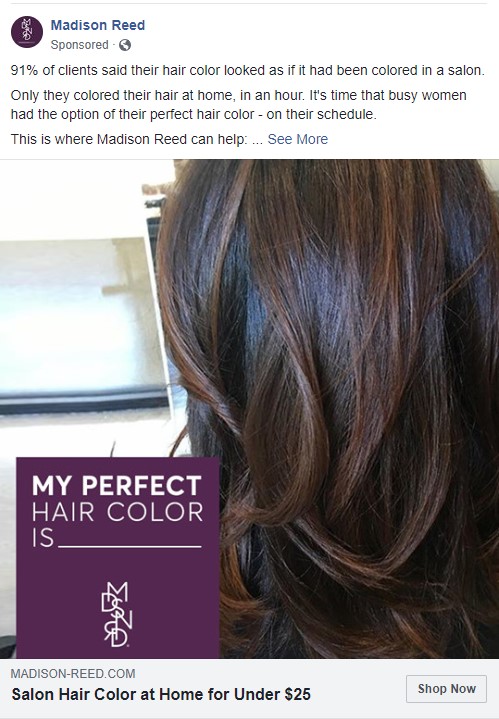 When I click over to their Facebook page, I see helpful information and I also learn a lot about their values. It's well-done content marketing that engages prospects at different stages in their buyer journey.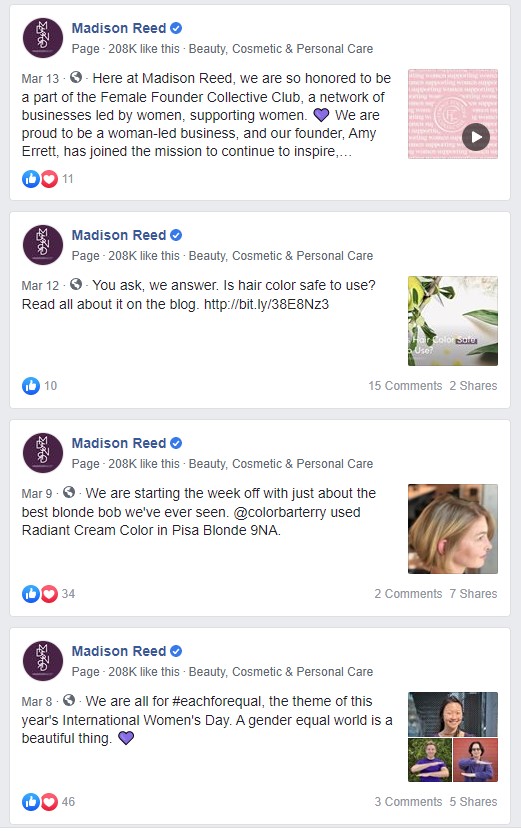 Services can also be helpful when it's not possible to deliver in-person. How-to videos as stopgaps are great advertising right now. What is a safe way to remove my gel manicure when I can't go to the salon? What exercises can I do at home that I used to do at the gym and what is proper form? If I run out of toilet paper, what should I use so my toilet doesn't clog? (Hint: don't flush wipes!)
For sure, services are in a tricky zone. My hair salon doesn't want me to get used to DIY hair color. There's a risk that teaching me how to do it could mean I won't pay for their services anymore.
But I'd argue there's a bigger risk in not being helpful right now. This is business disruption on a scale none of us have ever experienced. Habits will change, so businesses will evolve.
I'll remember the service providers who helped me and my family--as well as those who helped me cover my roots.
What We're Doing at Dialogue
Which brings me to my own service business. We choose to be helpful. For all of clients, past and present, we're turning off the clock on advice for as long as we're social distancing.
Call us for anything. We're happy to do a quick check on your analytics and provide suggestions. We can answer your questions about messaging, content and creative, social media targeting and spending, public relations and priorities for SEO and SEM.
We're also going to do our own how-tos on social media marketing, content marketing, personal branding and a host of other marketing topics today's businesses need to execute engagement strategy.
If you want me to let you know when we upload a new video or article, send me an email so I can confirm permission to email you.
It's Time to Change Marketing
Everyone who knows me knows that Seth Godin is my marketing north star. He's been telling us to stop marketing since way before COVID-19.
He means stop marketing the old way.
That's what we mean it too.
Not just now, but going forward.
REALLY put customers first by anticipating questions, concerns and desires.
Then make sure your answers, solutions and opportunities are findable when people search and shareable when your customers are asked their opinion about your brand.
All of us at Dialogue wish the very best for you and your families right now. Take care.